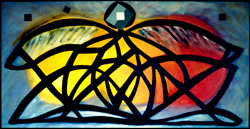 Upon retirement in 2008, E. F. Kaelin bequeathed 2,500 of the most important books of philosophy, art and language from his library, as well as vinyl recordings of world and classical music. Works primarily, but not exclusively published in English, French and German, range from Will and Ariel Durant's The History of Civilization to the collected works of Nietzsche (Leipzig: C. G. Naumann Verlag, 1906). The lexicon of continental philosophy, including existentialism, phenomenology and aesthetics is represented, with extensive marginalia. Books published by his students and colleagues include letters of appreciation inserted within their covers.
Any researcher in the post-WWII transmission of continental philosophy to North America and / or the library science of philosophy is welcome to contact Valérie C. Kaelin for terms of collaboration. The candidate should have a working knowledge of English, French, German (including Fraktur); Latin, Italian and Spanish, an asset. The first order of priority would be a professional, digitized inventory of the works. The researcher is responsible for any necessary project funding.
Please note that In the Academy; Between Two Cultures is not available for purchase or reproduction under any circumstance.